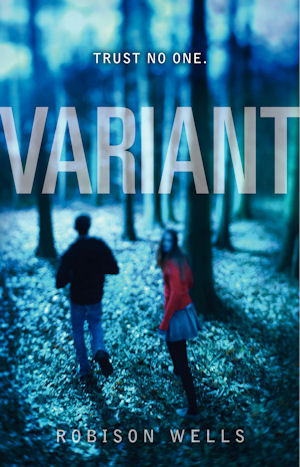 Title: Variant
Author: Robison Wells
Genre: Young Adult Sci Fi/Thriller
Publisher: Harper Teen
Publication Date: October 4, 2011
Hardcover: 384 pages
Where'd I Get It: eGalley from the publisher
Synopsis (From Goodreads):  Benson Fisher thought that a scholarship to Maxfield Academy would be the ticket out of his dead-end life.

He was wrong.

Now he's trapped in a school that's surrounded by a razor-wire fence. A school where video cameras monitor his every move. Where there are no adults. Where the kids have split into groups in order to survive.

Where breaking the rules equals death.

But when Benson stumbles upon the school's real secret, he realizes that playing by the rules could spell a fate worse than death, and that escape—his only real hope for survival—may be impossible.
My Thoughts: What was it about this book that made me like it so much that I'd give it 4 stars? Well, that's hard to pinpoint, really.  I suppose, then, that I should just list what I liked and what I didn't like and hope that you, dear reader, can see that you really should read this book.
Benson is our protagonist – an orphan living in the foster system – and he's proactively seeking a better life for himself.  He believes this better life is going to come in the form of attendance at Maxfield Academy, but things just don't always pan out how we'd like them to, do they?
I have to say that though when we initially meet Benson he's not annoying, whiney, or otherwise unlikable, we're not given enough time to really -care- about him before we're thrust into things.  Why do we care if he leaves the school? He's just another character among many at the beginning and since the reader has no connection to him, our main question is simply…Why?  Why not just go with the flow? Why not make the best of it? What on that first day is so bad that it makes him DESPERATE to leave immediately?
And that brings me to my biggest issue – the pacing.  It seems the book is fast for the sake of being fast.  I get that it's a thriller type story, but slowing things up just slightly might have given us a little more time to empathize and bond with the characters. This is true especially first the first third of the book in which not much happens but a lot of repetitive actions and info.
Now, that said, by the end of the first third of the book I was at least partially invested in the characters and feeling like I wanted to know more.  By the middle, I was hooked.
There's mystery, thrills, a touch of romance, suspense, and plot twists that will keep you guessing.  Benson is likable after all and the cliffhanger ending (a doozie of a cliffhanger, interesting, final enough to leave you content to wait, but exciting enough to make you definitely want more…) was perfect.
I'll certainly be reading the second book in this planned series.  Thank you, Mr. Wells, for giving us a not-so-typical story.
Rating: 4 of 5