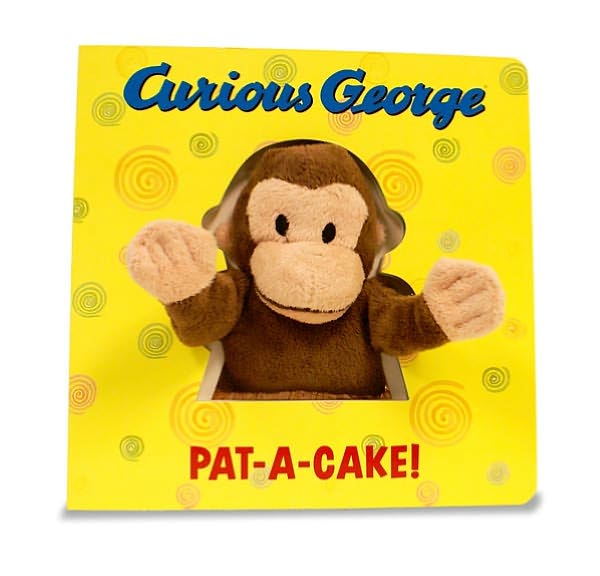 Title: Curious George: Pat A Cake
Author: H.A. Rey
Genre: Children's
Publisher: HMH Books
Publication Date: September 13, 2011
Boardbook: 8 pages
Where'd I Get It: Personal Library
Synopsis (From Goodreads):  Play pat-a-cake with George! A board book and puppet in one. With this new take on the classic pat-a-cake rhyming game, George can pat out rhymes about the bakers man, the postman, the ice cream man, and, of course, the yellow hat man! Colorful illustrations, bouncy rhyme, and a cuddly puppet make this a perfect interactive choice for play time and story time.
My Thoughts: What a fun little interactive book! Initially I was afraid that the Geekling was going to find this one boring, but that's just because I keep forgetting that little ones LIKE simple things – at least initially.  The book starts with the traditional pat-a-cake rhyme and then continues on to three different takes on it.  Two are quite cute, but one is rather forced and doesn't really jive with the rest.  That's alright, though, because Geekling didn't seem to mind a bit.  The puppet is a hit, as well, and Geekling loves to see it do the pat-a-cake motions along with whichever of his parents is reading the book.  I do find it amusing that the synopsis is longer than the combined rhymes in the book, and really, the puppet is not cuddly.  I suppose if you ripped it out of the book it would be, but we'll not be doing THAT.
The Geekling's Opinion:  He loves the sing-song quality of the words in the book.  Pat-A-Cake is one of his favorite rhymes, and this play on the traditional seems to engage him nicely.   He also really digs the puppet.
Rating: 4 of 5
Book 2 of 36 in the 2012 Read to Me – Picture Book Reading Challenge.