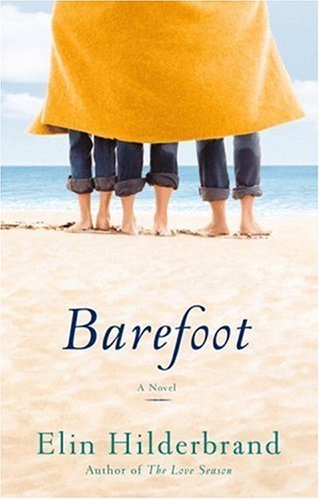 Title: Barefoot
Author: Elin Hilderbrand
Genre: Women's Fiction/Chick Lit
Publisher: Little, Brown and Company
Publication Date: August 2, 2009
Mass Market Paperback: 528 pages
Where'd I Get It: Bought it!
Synopsis (From Goodreads): It's summer on Nantucket, and as the season begins, three
women arrive at the local airport, observed by Josh, a local
boy, home from college. Burdened with small children,
unwieldy straw hats, and some obvious emotional issues,
the women–two sisters and one friend–make their way to
the sisters' tiny cottage, inherited from an aunt. They're all
trying to escape from something: Melanie, after seven failed
in-vitro attempts, discovered her husband's infidelity and
then her own pregnancy; Brenda embarked on a passionate
affair with an older student that got her fired from her
prestigious job as a professor in New York; and her sister
Vickie, mother to two small boys, has been diagnosed with
cancer. Soon Josh is part of the chaotic household, acting
as babysitter, confidant, and, eventually, something
more, while the women confront their pasts and map out
their futures.
My Thoughts: This was my first time reading any of Hilderbrand's books and I must say I will be reading others.  I absolutely devoured this book, reading it in less than a week (keeping in mind I work full time and go to school part-time!).  I found the book and the characters in it captivating.  Hilderbrand takes her readers through an emotional roller coaster with several real life issues that can and do present themselves.  My heart strings were pulled in every which direction, everything from happiness to heartache and back.
One of the things that I really enjoyed about this book is that Hilderbrand makes you fall in love with each of the three women in the story at different times of the book.  Just as you learn the story of one and get a feel for their plight then Hilderbrand changes direction and gives you a reason to feel for another character.  Normally this would be rather annoying, almost like reading 3 different books, but the author finds just enough ways to tie the women together that she can run between the 3 women's lives and still keep the book unified, easy to follow and interesting.  She does this quite often through the use of the character of Josh.
I would consider this book more of a "grown up" read, there were a few dicey scenes, although very tame.  I did end up purchasing this book, and cannot wait to read more of what Hilderbrand has to offer to her enthusiasts.
Rating: 4 of 5