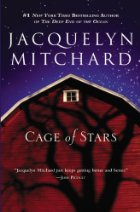 Title:  Cage of Stars
Author:  Jacquelyn Mitchard
Publisher: Grand Central Publishing
Publication Date:  August 2007
Paperback: 336 pages
I picked this book up for 29 cents on the clearance rack at our local Borders. My husband and I had already been in the store for several hours with very little luck in finding anything we had been looking for (our closest Borders sometimes fails miserably at having a good assortment of things), so I was standing by a random rack waiting for him to finish poking through things and noticed that above my head was a huge Clearance sign. Ooo…I felt a little tingle of joy, turned around…and saw four books on the shelf. To say I was disappointed would be a bit of an understatement. I did, however, see Cage of Stars with the sticker price of 29 cents. For 29 cents, I figured it didn't matter if the book was junk, so I bought it just to buy it.
I'm really glad I did.
Veronica "Ronnie" Swan is 12 years old when she witnesses the murder of her two younger sisters. Her idealistic, picture perfect childhood is destroyed completely in that moment, for not only has she lost her sisters, she suddenly has to become the adult in the house. Her mother gives birth to baby brother Rafe just weeks after the death of the sisters and Ronnie has to spend the next year, until her mother can once again function through the grief, raising the baby.
This story of a child growing to womanhood, having to choose between forgiveness or retribution, was a good read.  The Swan family has to lean very heavily on their faith (they are Mormons) to cope, and it is this faith that sees Ronnie through.
Unfortunately, I feel approximately half of the book was written a bit loosely.  The author tightens things up near the middle and finishes solidly, though, so I at least finished with a sense that everything was tidy and complete.
6 of 10