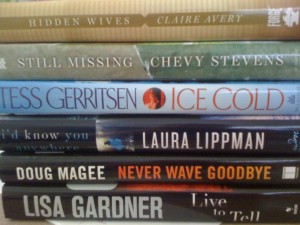 I decided to join Doubleday Book Club the other day…and my first order arrived today.  I'm super excited!
The titles are:
Hidden Wives – Claire Avery
Still Missing – Chevy Stevens
Ice Cold – Tess Gerritsen
I'd Know You Anywhere – Laura Lippman
Never Wave Goodbye – Doug Magee
Live to Tell – Lisa Gardner
Of course, I also have several galleys waiting to be read as well as some others that have been on my TBR stack for a while, so I'll have to catch up on those first.  Someone remind me that I may need to slow down a bit.