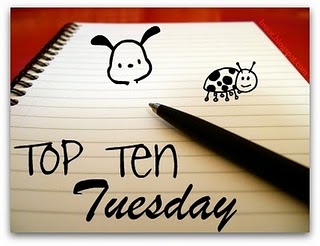 Top Ten Tuesday is a weekly meme created & hosted by The Broke and the Bookish. This week's topic is:
Top Ten Books I Want To Reread
How fun! Let's see
Jane Eyre by Charlotte Bronte – The first time I read this book was this year.  My mother-in-law got me a copy as a gift and so I finally just had to read it; boy am I glad I did! It's definitely one of my favorites now, and I'd love to read it again and again.
The Passage by Justin Cronin – This book was -good-.  It's one of the first books I reviewed for the blog and I just really enjoyed it.  It's a huge brick of a book, though, so I'm sure I missed important bits the first go-through. I'll definitely pick it up again before its sequel comes out next year.
The Black Stallion by Walter Farley – Oh I -loved- this series as a child! All of the Adventures of the Black Stallion were just too wonderful for me to pass up.  I even watched the television series that was based on the books.  Sadly, Hurricane Katrina ate my entire collection of Black Stallion books.  One day I'll re-buy them and I will definitely begin the stories anew.  I'm sure I'll enjoy them just as much as I did before.
Flowers for Algernon by Daniel Keyes – This book is a powerful, emotionally charged novel full of awesomeness. I cry every time I read it.
Ringworld by Larry Niven – When my husband was still "just" my friend, before we were dating, he bought me this series of books. Why? Because I was all mopey and depressed and angst-filled and whiney (I totally had good reasons!). At any rate, he bought me these and I read them and I loved them. I definitely want to read them again.
The Book of Lost Things by John Connolly – What a fun book! I had a lot of fun reading this one. It's not something I want to reread immediately, but I'll definitely pick it up again at some point.
Speak by Laurie Halse Anderson – I've already read this one twice and it's just such a fantastic book that I feel like I'd like to read it another time.  Also, it's a challenged book, and I like to rebel. 🙂
Thirst No 1, 2, 3, & 4 by Christopher Pike – Hands down my favorite vampire books of all time, and I reread them time and time again as a youngling.  I'll read the series again once Thirst No. 5 is due to come out.  (Did you HEAR? Christopher Pike said there'd be another one! So EXCITING!)
Gone With the Wind by Margaret Mitchell – I read this when I was in 6th grade because I was bored one summer.  Obviously I missed some of the subtleties and intricate details of the novel, so it needs to be reread. I mean c'mon…it's Gone With the Wind!
Swiss Family Robinson by Johann David Wyss – I looooove this book!  The way the family deals with the hand life dealt them is just fantastic to read. It's incredibly detailed and just plain interesting. Love love it.