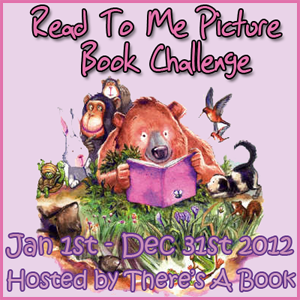 We, and by we I mean the Geekling and myself, are going to be participating in the 2012 Picture Book Reading Challenge this year.  This challenge is hosted by There's A Book and seems like a really fun way to keep me motivated to read consistently to our little one.  It's so easy to just say, "I'll read him something tomorrow…" and I typically end up not reading to him as often as I should.
There's quite a few levels to this challenge.  After poking through and going back and forth with myself, I decided to be realistic rather than lofty; we'll be attempting the "Watering" level, which sets a goal of 36 books to be read to a child in 2012.
I think that's doable for us. Also, it gives me an excuse to buy him more books…right?
😉
I'll be posting reviews of the books as we read them, though to be honest I'm not even sure HOW to review a children's book at this point.  It'll be a learning process – and I'm going to start right now by popping over to some other blogs and reading their reviews.  Hopefully this will also help me compile a list of books to read, because I don't think we own 36 picture books yet…I mean, he is only 7 months old!
Lovelove,


The Rainbow Fish by Marcus Pfister
Curious George Pat-A-Cake by H.A. Rey