Yikes! I've missed a few of these. It is -insane- how hectic life gets around here sometimes. There are days when I barely have enough time to breathe, so I really shouldn't be surprised when a meme goes missing from my rotation.  Still and all, I would like to TRY to get these done EVERY SUNDAY!
We'll see how that goes…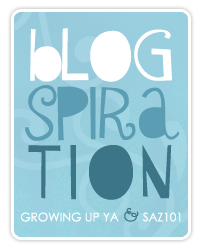 Blogspiration is a new meme hosted jointly by GrowingUp YA and saz101.  It is meant to, according to these lovely bloggers, "help spark inspiration among bloggers, readers and writers alike."  I don't know about you, but I am often in need of inspiration and motivation, and I think this hop just may do that.
The rules from our hosts are:
Blogspiration posts will go live on Sunday. While you don't have to post on Sunday, you have one week to drop by and share your links.
Go check out the participating blogs! Feel free to comment/follow
Most importantly, HAVE FUN with it!!
This week, our hosts have e-mailed us about something new.  Apparently it's not going to be an every-Sunday-thing, but an occasional little fun bit of the Blogspiration meme. I'm game!
The question that Sarah and Kristin have posed for us this week is:
"What book inspires you?"
Now, according to the eMail, this can be good, bad, or ugly inspiration.  Hmm.
Well…I think the book I've read most recently that inspired me was probably MWF seeking BFF by Rachel Bertsche. I actually have a review scheduled for this book for Februrary 28th and I anticipate giving it a rather high rating.  It's potentially a book that's not for everyone – parts of it are a bit dry with a bunch of references to various studies and lots of research – but the ideas in it, the theme of the book, is just…nice.  It's all about getting out there, making friends, socializing, being a happy, smiling, courteous, lovely person.
Since I'm "new" in town here in San Jose (ok ok, I've lived here since 2008, but still…) and I haven't really made the effort to go out and meet new (local) friends, the book really struck a chord with me.  I should just put myself out there and DO things.  I should join some book clubs and I should do the Mommy & Me groups and there's a few dog events around that my Border Collie would loooove… So yeah, the book has inspired me to look at my options.
However, I'm a nerdy introvert who also happens to be a content homebody.  I'm also painfully shy and have some -extreme- social anxiety when around large groups of people. SO…we'll see just how far this inspiration can get me. 😉
What book inspires YOU?  Leave me a comment and let me know!
Lovelove,