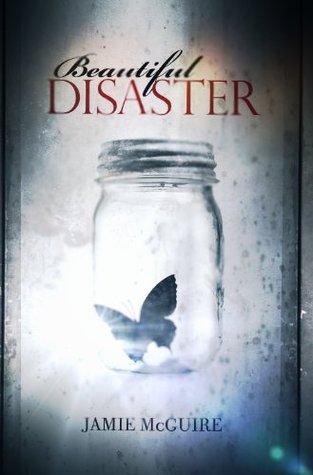 Title: Beautiful Disaster
Author: Jamie McGuire
Genre: Young Adult Contemporary Romance
Publisher: Atria Books
Publication Date: August 14, 2012
eBook: 434 pages
Where'd I Get It: Lindsay's NetGalley account.
Synopsis (From Goodreads): The new Abby Abernathy is a good girl. She doesn't drink or swear, and she has the appropriate percentage of cardigans in her wardrobe. Abby believes she has enough distance between her and the darkness of her past, but when she arrives at college with her best friend, her path to a new beginning is quickly challenged by Eastern University's Walking One-Night Stand. 

Travis Maddox, lean, cut, and covered in tattoos, is exactly what Abby needs—and wants—to avoid. He spends his nights winning money in a floating fight ring, and his days as the ultimate college campus charmer. Intrigued by Abby's resistance to his appeal, Travis tricks her into his daily life with a simple bet. If he loses, he must remain abstinent for a month. If Abby loses, she must live in Travis's apartment for the same amount of time. Either way, Travis has no idea that he has met his match.
Lindsay's Thoughts: Um…WOW!  I feel like  a tornado just blew through my mind!  This book was insanely addicting, the only thing keeping me from finishing the book in the first sitting was life (pfft who needs life anyways, right?).  I could feel the chemistry almost immediately between Abby and Travis and it kept building and building until both of the characters explode into some kind of frantic  and chaotic romance.  It was scintillating and disturbing all wrapped into one.
Travis does have a total lack of self control, which in some parts of the books make you want to grab a sedative and inject it into his arm, because he can clearly be destructive to himself and those around him.  While it makes for a interesting read, I'd never want to meet him in person.  The books starts to slack off when Abby's past starts creeping up on her with her low life father and a one night trip to Las Vegas that ends on a crazy note.
I would give it five stars but after rehashing some of the violence in the book and the strange ending, I have to take it down a notch.  Worth a read, but not everyone will love it!
Rating: 4 of 5