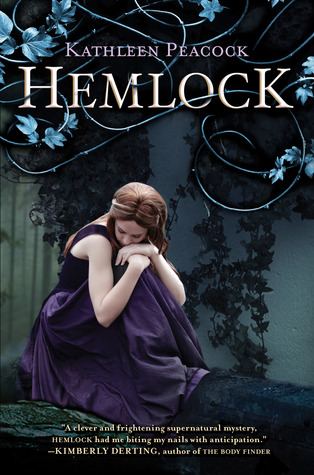 Title: Hemlock
Author: Kathleen Peacock
Genre: Young Adult Fantasy/Paranormal
Publisher: Katherine Tegen Books
Publication Date: May 8, 2012
Hardcover: 416 pages
Where'd Ashley Get It: For review from the publisher.
Synopsis (From Goodreads): Mackenzie and Amy were best friends.

Since then, Mac's life has been turned upside down. She is being haunted by Amy in her dreams, and an extremist group called the Trackers has come to Mac's hometown of Hemlock to hunt down Amy's killer:

A white werewolf.

Lupine syndrome–also known as the werewolf virus–is on the rise across the country. Many of the infected try to hide their symptoms, but bloodlust is not easy to control.

Wanting desperately to put an end to her nightmares, Mac decides to investigate Amy's murder herself. She discovers secrets lurking in the shadows of Hemlock, secrets about Amy's boy-friend, Jason, her good pal Kyle, and especially her late best friend. Mac is thrown into a maelstrom of violence and betrayal that puts her life at risk.

Kathleen Peacock's thrilling novel is the first in the Hemlock trilogy, a spell-binding urban fantasy series filled with provocative questions about prejudice, trust, lies, and love.
Ashley's Thoughts: Hemlock introduces you to a world in which werewolves are real and everyone knows this to be true. But forget about full moons, silver bullets, or Native Americans with rock-hard abs. You won't find that here. What you will find is a girl trying to come to term with the recent loss of her best friend, who was killed by a werewolf. When Mac decides to find Amy's killer on her own, she discovers that almost nothing is as it seems. The story is captivating and filled with enough twists to keep you on your toes, but not leave you scratching your head. While it is ripe with political conspiracy, human rights and prejudices, the heart of the story lies with a clever and loyal girl, determined not to lose the two best friends she has left. However, Kyle and Jason are both keeping secrets that could ruin it all.
I thoroughly, albeit unexpectedly, enjoyed Hemlock! It pulled me in and I almost couldn't put it down. I finished so quickly that, in the interest of a fair review, I decided to read it again and enjoyed it just as much the second time around. I'm looking forward to the next books in the trilogy and can't wait to see what is in store for Mac!
Rating: 4 of 5
Ree's notes: Wow, I just re-read Ashley's review and saw that she read it TWICE! Oh my goodness, now I'm definitely going to have to read it myself.  This girl knows a good story when she sees it! 🙂