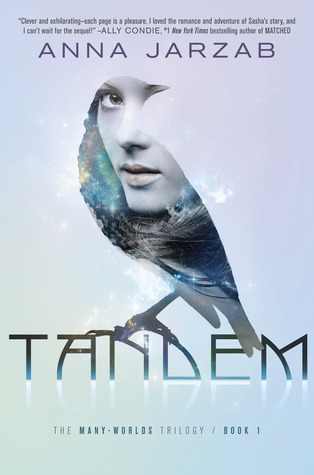 Title: Tandem
Author: Anna Jarzab
Genre: Young Adult Fantasy/Sci Fi
Publisher: Delacorte Press
Publication Date: October 08, 2013
Hardcover: 448 pages
Series: Many Worlds Trilogy #1
Where'd I Get It: Purchased from B&N
Synopsis (From Goodreads): Everything repeats.
You. Your best friend. Every person you know.
Many worlds. Many lives–infinite possibilities.
Welcome to the multiverse.

Sixteen-year-old Sasha Lawson has only ever known one small, ordinary life. When she was young, she loved her grandfather's stories of parallel worlds inhabited by girls who looked like her but led totally different lives. Sasha never believed such worlds were real–until now, when she finds herself thrust into one against her will.

To prevent imminent war, Sasha must slip into the life of an alternate version of herself, a princess who has vanished on the eve of her arranged marriage. If Sasha succeeds in fooling everyone, she will be returned home; if she fails, she'll be trapped in another girl's life forever. As time runs out, Sasha finds herself torn between two worlds, two lives, and two young men vying for her love–one who knows her secret, and one who thinks she's someone she's not.

The first book in the Many-Worlds Trilogy, Tandem is a riveting saga of love and betrayal set in parallel universes in which nothing–and no one–is what it seems.
My Thoughts: Yes, no, yes, no… I just could not decide if I wanted to read this book. The first chapter/introduction was a little stilted and it caused me to start and stop reading a total of three times before I decided that it was just time to suck it up and see how things progressed. In the end…I'm glad I did. While the prose isn't overly flowery, it also isn't over-simplified. The plot was engaging enough that once I got past what I thought was a lackluster beginning, I was really drawn into story. The protagonist, Sasha, is a believable character who is also actually likable. No Bella syndrome here, though there are a -few- points where you think, for a moment, that she's going to be absolutely stupid. Thankfully, she does prove she has a brain. Also, wow, what a cliffhanger. You -could- be satisfied (for some definitions of the word satisfied) with the ending that Jarzab gave, but I was definitely left going, "Nooo, no! There must be more!" Thankfully, there's a neat little insert in the book that says the second book of three is coming. Yay!
While this isn't my favorite read of 2014, it's definitely one of the ones I've most enjoyed, and I will be stalking Barnes and Noble to pick up the second book, Tether, as soon as it's released (supposedly Fall, 2014).
Rating: 4 of 5