Top Ten Tuesday is a weekly meme hosted by The Broke and the Bookish.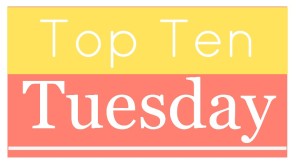 Today's topic is:
Top Ten… Characters Who Stole My Heart
Annnnnd…here we go!
Charlie from Flowers for Algernon by Daniel Keyes. Seriously…I love him.
Tris from the Divergent series by Veronica Roth. She was annoying, and then she wasn't.
Francesca from Saving Francesca by Melina Marchetta.
Jack from Room by Emma Donoghue.
Taylor from On the Jellicoe Road by Melina Marchetta.
Moon from Alabama Moon by Watt Key.
Jane from Jane Eyre by Charlotte Bronte
Annd…that's all I've got right now. I'm still recovering from emergency gallbladder removal surgery and sitting upright to type a post is So. Much. Harder. when you're actually in pain. Yikes. At any rate, these characters are from some of my favorite books…you should read them!
Lovelove,