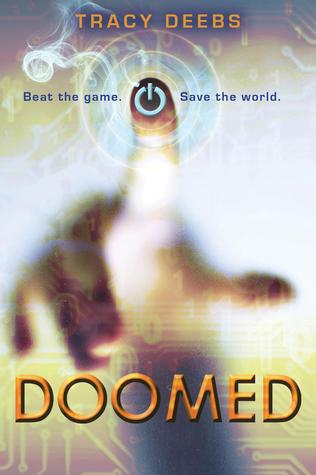 Title: Doomed
Author: Tracy Deeds
Genre: Young Adult Dystopian/Post Apocalyptic
Publisher: Walker Children's
Publication Date: January 08, 2013
Hardcover: 480 pages
Where'd I Get It: Purchased from B&N
Synopsis (From Goodreads): Beat the game. Save the world.

Pandora's an average teen, glued to her cell phone and laptop, until the day her long-lost father sends her a link to a mysterious site featuring photos of her as a child. Curious, Pandora enters the site, unwittingly unleashing a global computer virus that plunges the whole world into panic: suddenly, there's no Internet. No cell phones. No traffic lights, hospitals or law enforcement. Only Pandora's Box, a virtual-reality game created by Pandora's father, remains up and running. Together with her neighbors, gorgeous stepbrothers Eli and Theo, Pandora must follow the photographs from her childhood in an attempt to beat the game and track down her father—and rescue the world. Part The Matrix, part retelling of the Pandora myth, Doomed has something for gaming fans, dystopian fans, and romance fans alike.
My Thoughts: Well, then. I'm struggling to find something cheery and positive to say about this one, but honestly… I just didn't like it.  I did finish it, which is saying something, but I don't feel very excited about that fact.  While the protagonist wasn't a simpering wallflower good-for-nothing, she did as per usual have a heavy reliance on two uber-smart, uber-strong, awesomely adorable teen boys who just happened to be perfectly placed as her neighbors and brilliantly able to help her out through the trials and tribulations that were thrown in her face.  The sad part is, the plot could have been awesome… the basic idea of it is really interesting, but the execution felt hurried and far, far too focused on the big burly boys who were there to save our pitiful (yet not quite as pitiful as Twilight's Bella!) damsel in distress. There's a few video game fight scenes that fell so flat I wanted to bonk my forehead against the table, and the repetitive nature of each "boss" fight was agonizing.  Go ahead and pick it up from the library. It won't hurt you to read it, but I doubt you'll be enthralled enough to hope for a sequel.
Rating: 2 of 5