Top Ten Tuesday is a weekly meme hosted by The Broke and the Bookish.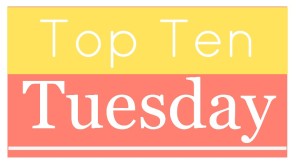 I haven't been participating in any memes, and I don't want to commit (well, that's probably the wrong word. It isn't as if you HAVE to do these every week… no one's making you… anyway..) to many of them, so this seemed a nice way to dip my toe back into the waters of blog life. Let's see how things pan out, yeah?
Today's topic is:
Top Ten… Books I've Recently Added To My TBR
And here we go…
Ruined by Amy Tintera
Passenger by Alexandra Bracken
Unrivaled by Alyson Noel
Eleanor by Jason Gurley
The Forgetting Time by Sarah Guskin
The Art of Not Breathing by Sarah Alexander
The Third Twin by C.J. Omololu
Hush by Eishes Chayil
Twist (Loop #2) by Karen Akins
The Ward by Jordana Frankel
Thanks for stopping by to give my list a peek!
Lovelove,