On My Wishlist is hosted by Book Chick City.  The meme runs every Saturday and is meant to be a list of books you want but haven't bought yet.  They can be new books, old books, pre-release books, books in your imagination…  Ok, I'm not certain on that in your imagination part, but carry on anyway!
This is the first time I'll be participating, but hey, I'm starting to like this whole meme thing. I'm getting to know a lot of people through them, lots and lots of really nice people.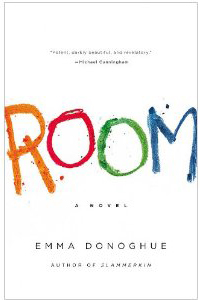 Title:  Room
Author:  Emma Donoghue
Publisher: Little, Brown and Company
Publication Date:  September 2010
From Goodreads:
To five-year-old Jack, Room is the entire world. It is where he was born and grew up; it's where he lives with his Ma as they learn and read and eat and sleep and play. At night, his Ma shuts him safely in the wardrobe, where he is meant to be asleep when Old Nick visits.
Room is home to Jack, but to Ma, it is the prison where Old Nick has held her captive for seven years. Through determination, ingenuity, and fierce motherly love, Ma has created a life for Jack. But she knows it's not enough…not for her or for him. She devises a bold escape plan, one that relies on her young son's bravery and a lot of luck. What she does not realize is just how unprepared she is for the plan to actually work.
Told entirely in the language of the energetic, pragmatic five-year-old Jack, ROOM is a celebration of resilience and the limitless bond between parent and child, a brilliantly executed novel about what it means to journey from one world to another.
Title:  Of Bees and Mist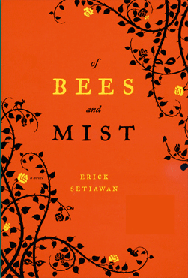 Author:  Erick Setiawan
Publisher: Simon & Schuster
Publication Date:  April 2009
From Goodreads:
Of Bees and Mist is an engrossing fable that chronicles three generations of women under one family tree and places them in a mythical town where spirits and spells, witchcraft and demons, and prophets and clairvoyance are an everyday reality.
Meridia grows up in a lonely home until she falls in love with Daniel at age sixteen. Soon, they marry, and Meridia can finally escape to live with her charming husband's family—unaware that they harbor dark mysteries of their own. As Meridia struggles to embrace her life as a young bride, she discovers long-kept secrets about her own past as well as shocking truths about her new family that push her love, courage, and sanity to the brink.
Erick Setiawan's astonishing debut is a richly atmospheric and tumultuous ride of hope and heartbreak that is altogether touching, truthful, and memorable.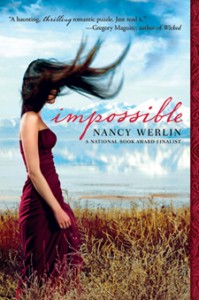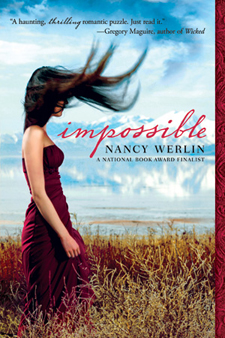 Title:  Impossible
Author:  Nancy Werlin
Publisher: Speak
Publication Date:  August 2009
From Goodreads:
Lucy has nine months to break an ancient curse in order to save both herself and her unborn daughter.
Inspired by the ballad "Scarborough Fair," this riveting novel combines suspense, fantasy, and romance for an intensely page-turning and masterfully original tale.
Lucy is seventeen when she discovers that the women of her family have been cursed through the generations, forced to attempt three seemingly impossible tasks or to fall into madness upon their child's birth. But Lucy is the first girl who won't be alone as she tackles the list. She has her fiercely protective foster parents and her childhood friend Zach beside her. Do they have love and strength enough to overcome an age-old evil?