The husband and I decided to have date night/day looking for books. Our first stop was a local (somewhat local, anyway) bookstore, Hicklebee's. We'd never been, and I was desperate to buy Firelight today, so we decided to go. Alas, there was no Firelight to be had upon their shelves.  We did not leave empty handed, however.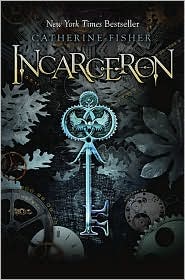 Title:  Incarceron
Author:  Catherine Fisher
Publisher:  Dial
Publication Date:  January 26, 2010
Hardcover: 448 pages
Synopsis (From Goodreads): Incarceron — a futuristic prison, sealed from view, where the descendants of the original prisoners live in a dark world torn by rivalry and savagery. It is a terrifying mix of high technology — a living building which pervades the novel as an ever-watchful, ever-vengeful character, and a typical medieval torture chamber — chains, great halls, dungeons.

A young prisoner, Finn, has haunting visions of an earlier life, and cannot believe he was born here and has always been here. In the outer world, Claudia, daughter of the Warden of Incarceron, is trapped in her own form of prison — a futuristic world constructed beautifully to look like a past era, an imminent marriage she dreads. She knows nothing of Incarceron, except that it exists.

But there comes a moment when Finn, inside Incarceron, and Claudia, outside, simultaneously find a device — a crystal key, through which they can talk to each other. And so the plan for Finn's escape is born …
Very excited about that one.  Probably going to save it for the YA Dystopian Challenge, though.
Since I'd not been able to find Firelight at Hicklebee's, we decided to head over to Barnes & Noble after dinner.  Once there, we snagged several books that we'd been wanting (including Firelight), and added far too many books to our Wishlists.  Oopsie…  At any rate, here's what we grabbed:
And last, but certainly not least…
Title:  Firelight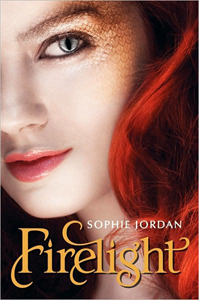 Author:  Sophie Jordan
Publisher:  HarperCollins
Publication Date:  September 7, 2010
Hardcover: 336 pages
Synopsis (From Goodreads):  With her rare ability to breathe fire, Jacinda is special even among the draki—the descendants of dragons who can shift between human and dragon forms. But when Jacinda's rebelliousness leads her family to flee into the human world, she struggles to adapt, even as her draki spirit fades. The one thing that revives it is Will, whose family hunts her kind. Jacinda can't resist getting closer to him, even though she knows she's risking not only her life but the draki's most closely guarded secret.
I cannot even begin to explain how excited I am to start reading this.  Hopefully I'll finish up Clockwork Angel sometime Sunday so I can start on it.  *squeal* Can't wait!!