Title:  The Whispering Room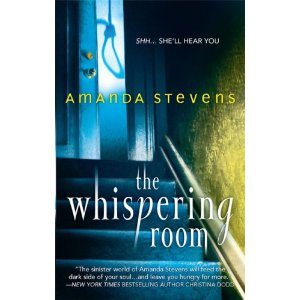 Author:  Amanda Stevens
Publisher:  Mira
Publication Date:  March 1, 2009
Mass Market Paperback: 384 pages
Synopsis (From Goodreads):  Work is a welcome refuge for New Orleans homicide detective Evangeline Theroux. Feeling suffocated by her new baby, in whose eyes she sees only her dead husband, she throws herself into a high-profile murder case.

Reclusive writer Lena Saunders offers Evangeline a provocative theory about the crime: it is the work of a lunatic vigilante. Lena spins the sordid story of Ruth and Rebecca Lemay, whose mother brutally murdered her male children in an insane effort to root out an "evil" gene. The girls survived and grew to adulthood—but one is carrying on her mother's grisly work.

When the case takes a terrifyingly personal turn, Evangeline's whole life will depend on a crucial, impossible choice: the lesser of two evils.
What I loved about the book:  The author managed to portray New Orleans in a realistic manner, which I think a lot of authors fail to do.  I love books set in the South, (see there, I capitalized it) because it's a little taste of home…but I only really enjoy them when the author gets it right.  The pace was fast, but not rushed, and the dialogue was spot on. No wonky weird attempts at crazy accents, just straight up speaking.  Thoughts, even, were rather straightforward which was appreciated.  The suspense built up throughout the novel and the unravelling of the mytery by the detectives actually made sense.
What I did not love about the book:  The romance part of the novel seemed just a touch contrived, but I suppose I can overlook that as it was not an essential part of the story.
General thoughts: This is the first time I've read a book by Amanda Stevens, and it certainly will not be the last.  This book was a page-turner from the beginning and kept me engaged and interested throughout.  The story was packed with action, suspenseful, thought provoking, and just plain good.  I'll be looking for more from Amanda Stevens.
Rating:  8 of 10