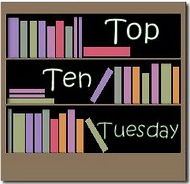 I'm participating in Top Ten Tuesday again this week.  It's a weekly meme hosted by The Broke and the Bookish, and it's always a lot of fun.  This week's theme is:
Top Ten Books I'm Dying To Read
Thirst No. 3: The Eternal Dawn – Christopher Pike
I absolutely adored the Last Vampire series as a child.  I read the books over and over and over again until I had to beg my parents to get me new copies because they were falling apart.  I loathed that the series ended and I always hoped, wondered, imagined, that Pike would carry the story forward. Imagine how excited I was to find out that Sita (I refuse to call her Alisa) is back. Oh my GOODNESS I am so anxiouis to read this one!
Room – Emma Donoghue
While this book sounds somewhat disturbing, it also sounds too fascinating to pass up.  My friend Bree over at 1girl2manybooks is the one who first told me about it, and I've been intent upon getting it since then.
Firelight – Sophie Jordan
I know this one's all the buzz right now, and probably on a lot of peoples lists, but I had to include it.  I have a thing for dragons, what can I say, and this story just sounds too cool for me to pass up.

The Wishing Trees – John Shors
Just sounds like a beautiful story.  It'll probably make me cry, but…hey, I need new contacts anyway!

The Hundred Thousand Kingdoms – N.K. Jemisin
My husband found this one at Barnes and Noble the other day and we added it to both our wish lists.  It's a debut novel, so no telling what it's going to be like, but the synopsis on the back hooked me. So, there you go.

Everything Must Go – Elizabeth Flock
Sounds intriguing.

Still Missing – Chevy Stevens
Another debut novel that sounds fantastic.

I'd Know You Anywhere – Laura Lippman
A novel along the same theme as Still Missing, and strangely enough I bought them at the same time. I wonder if I was having a moment?

Of Bees and Mist – Erick Setiawan
Magic and fairy tales, oh my!  And…another debut novel. Aren't I just being all kinds of adventurous.
Home to Holly Springs – Jan Karon
This one just sounded like a good read.