Title:  Evermore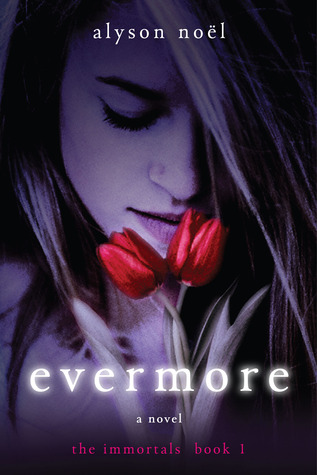 Author:  Alyson Noel
Genre: Young Adult
Publisher:  St. Martin's Griffin
Publication Date:  April 1, 2010
eBook: 438 KB
Where'd I Get It: purchased via Amazon
Synopsis (From Goodreads): Since a horrible accident claimed the lives of her family, sixteen-year-old Ever can see auras, hear people's thoughts, and know a person's life story by touch.   Going out of her way to shield herself from human contact to suppress her abilities has branded her as a freak at her new high school—but everything changes when she meets Damen Auguste…


Ever sees Damen and feels an instant recognition.  He is gorgeous, exotic and wealthy, and he holds many secrets.  Damen is able to make things appear and disappear, he always seems to know what she's thinking—and he's the only one who can silence the noise and the random energy in her head.  She doesn't know who he really is—or what he is.  Damen equal parts light and darkness, and he belongs to an enchanted new world where no one ever dies.
My Thoughts:  I went into this book fairly excited to read it, even though I was slightly hesitant after looking through other reviews.  The writing style was slightly more casual than I would have liked for such a serious-themed book, but I could have overlooked that if the mood had ever lightened.  It didn't.  What we have is Ever, the protagonist, who is a stunningly beautiful blonde who keeps herself hidden away under hoodies and wearing iPod headphones. Why does she wear the headphones all the time? Because she's psychic.  Her parents are dead and she's living with a relative she was never very close to before.  Then we have Damen.  He's gorgeous, moves super fast, has eyes only for Ever from the moment he first sees her, oh, and Ever can't read his mind.  I felt, honestly, like I was reading a new and improved version of Twilight.  So, because of its similarity to that particular series, nothing was much of a surprise.  The plot was predictable and less than exciting.  I knew what the ending was going to be far before I got to the end, but…Ms. Noel's writing is at least entertaining and engaging enough to keep me reading.
Now, despite the fact that I do not think this is an epic, great novel, and despite it being very Twilight-like, I did enjoy Evermore.  Ever actually has a personality and seems to know her own mind (for the most part).  Damen is fairly likable, as well, because he's not the pale bloodsucking whimpery type.  Even the supporting characters are decently thought out and make the reader feel as though they actually exist and aren't just there drive Bella to the movies.  Er, I mean Ever.
At any rate…for those who liked Twilight, Alyson Noel's Evermore will rock your socks.  For those of you who didn't, well, this might rock your socks anyway, because the characters are far more entertaining and less vapid.  Give it a try, you never know!
Rating: 5 of 10