It's that time again! Happy Friday everyone. I hope you all have a fantastic weekend and that your blogs get tons of unique hits and that you gain followers galore!
I'm combining my Follow Friday and Book Blogger Hop posts today, because I'm late posting them and I'm feeling a little extra special lazy.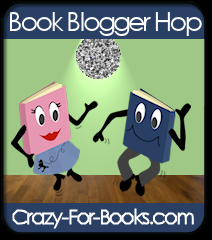 The Book Blogger Hop is hosted by Crazy-for-Books.com and is a meme run every Friday.
This week's question is from Elizabeth @ Silver's Reviews:
When you write reviews, do you write them as you are reading or wait until you have read the entire book?
My Answer: I write my reviews right after finishing a book or the day after, when the story is still fresh in my mind.  Occasionally, if I find I'm having a hard time forming my thoughts on a particular novel, I'll wait a few days and come back to it.  I never write the review as I read, because I feel like I'm writing a review of that particular portion of the book rather than the story as a whole.
Annnnd now for Follow Friday…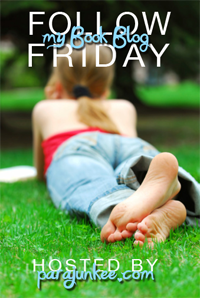 This meme is hosted by Parajunkee's View. The Follow Friday question for today is from Tina at Book Couture:
My question for you guys, what is your high fashion book? — translation — best book cover ever.
My Answer:  Well, let me think.  *wanders over to the bookshelves to peer pensively through the novels there*  Oh, yes…that would be this one: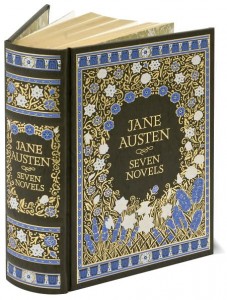 My husband gave me this collection of Jane Austen's works for my birthday two years ago.  I absolutely completely love the whimsical type of elegance that this cover has.  It's also textured, so it has an interested feel when you're holding it to read.
There you go, then! Follow Friday and Book Blogger Hop complete. 🙂  As usual, if you post a comment here, I will (by the end of the weekend) hop back over to your blog and follow (if I'm not already following) and comment.
Thanks so much for visiting, folks.  Take care!