Title: The Dead and the Gone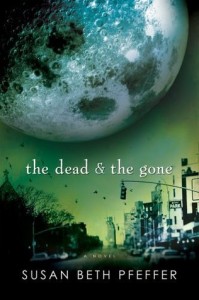 Author: Susan Beth Pfeffer
Genre: Young Adult Dystopian
Publisher: Harcourt Children's Books
Publication Date: June 1, 2008
Hardcover: 336 pages
Where'd I Get It: Library
Synopsis (From Goodreads): Susan Beth Pfeffer's Life as We Knew It enthralled and devastated readers with its brutal but hopeful look at an apocalyptic event–an asteroid hitting the moon, setting off a tailspin of horrific climate changes. Now this harrowing companion novel examines the same events as they unfold in New York City, revealed through the eyes of seventeen-year-old Puerto Rican Alex Morales. When Alex's parents disappear in the aftermath of tidal waves, he must care for his two younger sisters, even as Manhattan becomes a deadly wasteland, and food and aid dwindle.
With haunting themes of family, faith, personal change, and courage, this powerful new novel explores how a young man takes on unimaginable responsibilities.
My Thoughts: Initially I thought this book was the 2nd in the series, and I was quite a bit perturbed to discover that it was simply a companion novel.  I got over that fairly quickly, however, because I found out that the characters from book 2 meet up with the characters from book 1 in book 3.  (No, this is not a spoiler, it says as much on the backs of the books.)  Really, though, I did not enjoy the story of Alex Morales as much as I enjoyed reading Miranda's diary.  It did seem like a good portion of Alex's story was identical to Miranda's, and while it makes sense that people the world over would be experiencing very similar situations…I feel the story was just a -little- redundant and probably not very necessary in and of itself.  It was, however, essential as a tie-in for the 3rd book.  All in all, I did enjoy the read, but I would have enjoyed it just as much as a standalone.
Rating: 6 of 10
Bellaesque Rating: Not Applicable
I read this book as a part of the Young Adult Dystopian Challenge which can be found over at Bart's Bookshelf.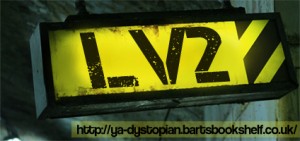 I'm aiming for "Level 2" which is 2-4 dystopian novels read between October 1st and December 19th. This is my 3rd for the challenge.