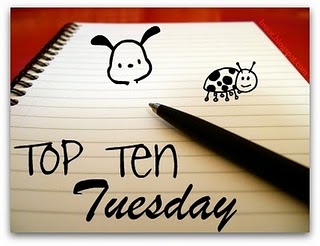 Top Ten Tuesday is a weekly meme created & hosted by The Broke and the Bookish. This week's topic is:
The Top Ten Sequels I'm Dying To Read
The Twelve by Justin Cronin – I absolutely loved The Passage and cannot wait to see what happens next!
Thirst No. 5 by Christopher Pike – The Last Vampire series has been a love of mine from the beginning.  I read the books as they were published back in the 90s and I was super thrilled when Simon & Schuster announced there was going to be a continuation.  I pre-ordered Thirst No. 3, then squealed with joy that there would be a Thirst No. 4, then was heartbroken to find out that was the end… only to squeal with more joy when Christopher Pike announced that the journey for Sita was not, in fact, over. There's apparently plenty more of her story to be told, and I cannot WAIT to read it!
Prized by Caragh M. O'Brien – I really liked Birthmarked and I'm really interested in what happens from where it left off.
Thumped by Megan Mccafferty – You know, I didn't really adore Bumped, but nevertheless, I'm interested in seeing where Ms. Mccafferty is going with this series.  For that reason, I'm definitely looking forward to reading this sequel.
Firelight #3 by Sophie Jordan –  Again, I didn't adore Vanish, the second book in the Firelight series, but I did like it enough to want to finish off the series.  I'm really intrigued with what Ms. Jordan has done with dragons.  Such cool stuff.
Pandemonium by Lauren Oliver –  Delirium was one of my favorite reads last year (I read an eGalley version) and the ending really made me want to grab the second book right then and keep on reading.  This is certainly a sequel that I'm eager to read.
Fever by Lauren de Stefano – I really liked Wither and I'm looking forward to reading Fever. Rhine's story is heartfelt, even if the dystopian theme is a bit…hrm…lacking?  Ah, well, I liked it.  'Nuff said, right?
Away by Teri Hall – The Line was such a fun book – dark, eerie, fun, and the writing was really nice.  I've not yet posted my review for it, but I will soon – and in the meantime, I'll wait impatiently for the sequel to come out!
Monsters of Men by Patrick Ness –  I read the first two books almost a year ago and just haven't had time to read the third.  I'm really looking forward to the conclusion of the series, though, because I greatly enjoyed the story in the first two books. I really hope I get the opportunity to read this one soon.
Hallowed by Cynthia Hand – Unearthly was just a touch more than ok in my book, but the ending was so horribly abrupt and there was so much left unanswered that I absolutely have to find out what happens. Morbid curiosity, maybe?
There we go!  Obviously I'm not super excited about all 10 of these, but they're the sequels I'm wanting to read more than any others I've picked up in the last year.  I am, though, SUPER excited about some of them. I'll be snatching up copies of a few just as soon as I can make grabby hands in their direction…well, and after I swipe my card, of course.  My silly library is unlikely to have them – they're a bit slow on picking up new books for some reason, and always have such limited quantities.  Ugh budget cuts!
Anyway. Yes. Sequels…gotta love 'em!  Which sequels are YOU anxious to read?