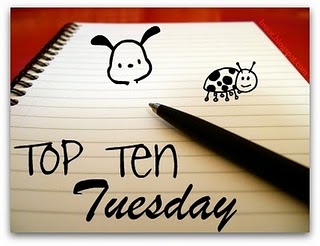 Top Ten Tuesday is a weekly meme created & hosted by The Broke and the Bookish. This week's topic is:
Top Ten Books I Read Because of Another Blogger
Oh wow…I'm going to suck at this, but only if you expect me to remember exactly who recommended it! Let's see…
Angelfire by Courtney Allison Moulton – I can't remember who suggested this one. It was probably quite a few people.  I snagged it when it became available as an eGalley on NetGalley.
The Hunger Games (series) by Suzanne Collins – I read this because of Bree over at All The Books I Can Read.  Seriously – it was all over the blogosphere and I avoided it like the plague just because I tend to take some convincing.  There's never any telling if the book(s) is/are worth the hype.  These are. Read them if you haven't, you won't regret it.
The Passage by Justin Cronin – Another that I read because of the darling Bree.  I absolutely loved this one – so dark and twisty and wonderful.  The only downside to reading it is that the sequel isn't due out til next year. 2012! I read it in 2010! Ugh! Oh well, I'm sure it'll be worth the wait.
Delirium by Lauren Oliver – Can't remember, but it was a blogger!
Shiver by Maggie Stiefvater – Only about a dozen or so bloggers who I follow via Twitter/RSS/etc.  It was all over the place.  Loooooved it!
Room by Emma Donoghue  – I first saw this mentioned by Laura over at I'm Booking It (I think?).  Also, again, Bree.  I requested an ARC from the publisher and got it…didn't expect THAT to happen…  Definitely loved this one, and I'm glad I read it.
Birthmarked by Caragh M. O'Brien – Definitely can't remember who suggested this one.  It flew by in a flurry of twitter activity and I looked it up.  Definitely was a blogger, though!
Firelight by Sophie Jordan – Do not remember….but I do know I saw it at Barnes & Noble, didn't buy it because I'm cheap, then came home and saw a slew of recommendations on twitter from bloggers I follow and went back to get it.  I am odd, I know.
The Knife of Never Letting Go by Patrick Ness – Annnnd another I can't remember specifics of…though I believe this is one I read because someone bashed it pretty hard.
Nightshade by Andrea Cremer – I saw Pam from Bookalicio.us talking about this one and after reading the synopsis, I figured I had to have it. I still haven't read the 2nd in this series, but I will eventually.