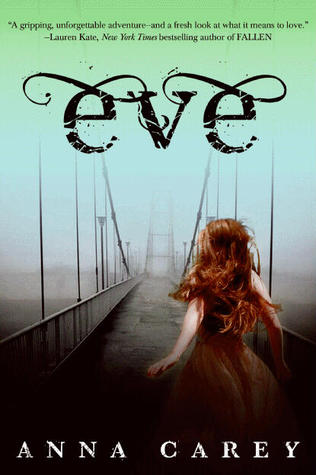 Title: Eve
Author: Anna Carey
Genre: Young Adult Sci Fi/Dystopian
Publisher: HarperCollins
Publication Date: October 4, 2011
Hardcover: 336 pages
Where'd I Get It: eGalley from Publisher
Synopsis (From Goodreads): The year is 2032, sixteen years after a deadly virus—and the vaccine intended to protect against it—wiped out most of the earth's population. The night before eighteen-year-old Eve's graduation from her all-girls school she discovers what really happens to new graduates, and the horrifying fate that awaits her.

Fleeing the only home she's ever known, Eve sets off on a long, treacherous journey, searching for a place she can survive. Along the way she encounters Caleb, a rough, rebellious boy living in the wild. Separated from men her whole life, Eve has been taught to fear them, but Caleb slowly wins her trust…and her heart. He promises to protect her, but when soldiers begin hunting them, Eve must choose between true love and her life.
My Thoughts: The general premise of this book is good. The author's writing is decent and it seems the editing job was nicely done. In fact, the only thing about the book that was bad is that it was just…bad? Nothing made sense to me. Now I could be just having a brain problem, but Eve as a character just really grated on my nerves and was completely unbelievable.
I feel entirely let down, actually, because the promise of Anna Carey's dystopic world was that it would be fantastic. It sounded like it'd be fantastic. It's like my parents told me we're going to Disney World and instead we ended up in an empty parking lot with a big Mickey poster stuck on a stick and some half-filled helium balloons floating about at random.
Since I can't actually tell you why I disliked this book so much without it being a total spoiler-fest, I'll just say that things happened in the book that make ABSOLUTELY no sense in the grand scheme of things and I cannot see, at all, how anything would work the way the author portrays it. Eve's actions and thoughts make her seem like a completely naive girl (that bit is understandable considering how she grew up) who is incapable of self growth. There was very little, if any, character growth from beginning to end. Also, the inconsistencies in her actions were too blatant to overlook. On top of that, the world building was lacking – and again, there was so much promise that I feel really let down about it not being there.
If you'd like details, go ahead and e-mail me.
For what it's worth, I did like it better than I liked Twilight. But no, I will not be reading the sequel.
Rating: 2 of 5