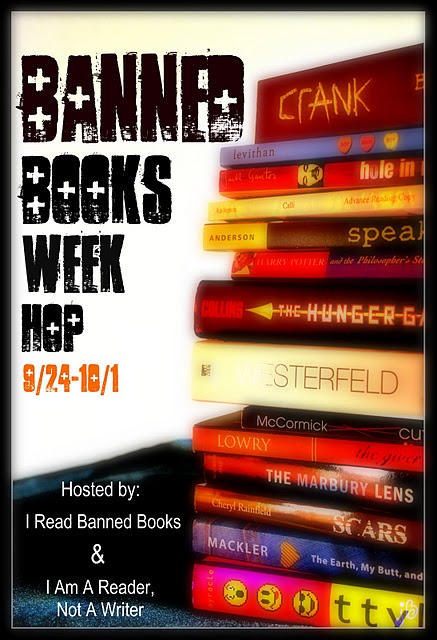 Literary Obsession will be participating in Banned Books Week again this year!
Thanks to Kathy from I Am A Reader, Not A Writer and Jen from I Read Banned Books, there's a pretty huge blog hop going on linking all the blogs that are participating.  I'm definitely proud to include my blog on this list, because I certainly do NOT support the banning of books and I think this is a great way to spread the word about some great challenged and banned titles.
If you'd like more information about Banned Books, please visit these links:
The American Library Association
BannedBooksWeek.org
Here at Literary Obsession, I'll be giving away 1 box set of The Hunger Games by Suzanne Collins in Hardcover format, 1 copy of Speak by Laurie Halse Anderson (paperback), and 1 book from the 2010-2011 challenged books list chosen by my dear hubby who hates the thought of banning books just as much as I do.  I'll draw three winners; the first winner gets to choose his or her prize, the second winner chooses from the other two, and the third winner gets the remaining book.
My giveaway is INTERNATIONAL to any country on BookDepository.com's ship-to list.
Be sure to take a moment (or, well, a lot of moments, this list is long!) to enter the other giveaways on the hop.  There's a ton of great books available!
(If you cannot see the Rafflecopter entry form or the linky blog list, refresh the page by pushing ctrl-r or command-r.)
Don't forget to check out the other blogs participating in the hop!