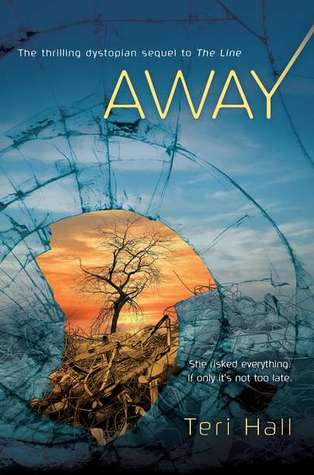 Title: Away (The Line #2)
Author: Teri Hall
Genre: Young Adult
Publisher: Dial
Publication Date: September 15, 2011
Hardcover: 240 pages
Where'd I Get It: Purchased
Synopsis (From Goodreads):  After crossing the Line, Rachel finds herself in a world where survival is never guaranteed – a world where bizarre creatures roam the woods and people have strange abilities. Everything has gone to ruin Away and the survivors have banded into warring clans. Rachel finds her father being held prisoner by a tribe of Others, and she and her new friends set out to rescue him. But when they cross back over the Line, Rachel and Pathik make a foolish decision, bringing them into further danger that can only be resolved with an unthinkable sacrifice.

An adventure filled with life-and-death choices, dark conspiracies, and heart-poundingly suspenseful moments, this sequel delivers.
My Thoughts: Well, I've just realized I don't have a review for the first in this series, The Line, here on the blog.  I'll rectify that ASAP…whoops!  At any rate…
While I enjoyed Teri Hall's The Line, I feel like the sequel (2nd in a proposed trilogy) did not live up to the promise of the first book.  The story picks up just after Rachel has crossed the Line.  One would expect things to start getting interesting at this point, and to an extent it does, but the writing felt a bit flat and the characters all seemed like copies of one another.  There were no real striking or stand out personalities and even Rachel, who was fun to read about in the first book, seemed to diminish a little.  The powers that some of the Others have seemed underplayed and underdeveloped, which just added to a serious lack of detail and a sluggish pace that made it seems there was little to no forward momentum in the novel.  As far as the ending – I don't know that I'd call it a cliffhanger, as that word brings to mind a feeling of wanting to read more.  This was just sudden and stark, and fairly forgettable.  Of course, I'm a finisher-of-series, so I'll read the third.  I won't buy it, though – my library will be getting my patronage for the next installment.
Rating: 3 of 5