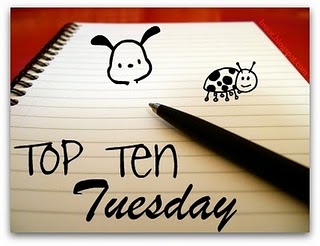 Top Ten Tuesday is a weekly meme created & hosted by The Broke and the Bookish. This week's topic is:
Top Ten Books…
You'd Hand to Someone Who Says They Don't Like to Read 
Wow.  This might be a tough one for me.  I tend to read what pleases me and that doesn't always translate well to what pleases someone else.  Also, books are such personal things…it would depend on who exactly said they didn't like to read…are we talking young adult or pre-teen or adult? Male or female? Technically inclined engineering type or homemaker with a passion for crafting?  Introvert or extrovert? Oh well, I'll give it a go!
The Help by Kathryn Stockett – This is a wonderful story and an easy read, definitely something that I think people who don't "like" to read would enjoy.
Jane Eyre by Charlotte Bronte  – Well I have to include this.  It's just so WONDERFUL!  I think this would be a great "first" read for both Young Adults and those of Older-Than-Young Adult range.
The Hunger Games by Suzanne Collins – I really enjoyed this series and I think anyone in their mid-teens or early 20s (or late 20s, like myself) would like.  It's an easy read, but definitely has the depth and detail that makes for a fantastic story.
Ringworld by Larry Niven – Ringworld is just too fabulous not to suggest.  It's interesting and not just a typical story. I love it.
Cheap Cabernet: A Friendship by Cathie Beck – This was definitely one of my favorite reads of 2010.  It's a great story of friendship and love without being overly sappy or verbose.  The Book of Lost Things by John Connolly – Just plain FUN – and a story that anyone who has ever heard a fairy tale could enjoy.
The Daughter of Smoke and Bone by Laini Taylor – Bree of 1 Girl 2 Many Books recommended this one to me and I finally had time to pick it up. The author's writing style is just plain lovely and the story is engaging.
Good Omens by Terry Pratchett & Neil Gaiman – My fabulous husband suggested that I add this one to the list.  I have not read it, but he says it's an intriguing read and one that would pique the interest of a hesitant reader.  I trust his judgement, so here it is!
The Neverending Story by Michael Ende – This one was also suggested by Mr. Lit Obsession.  I've started it but I keep getting distracted by other books – not because it's not good (it is!) but because I've seen the movie and I'm always anxious to read NEW things.  Shame on me for that.
Flowers for Algernon by Daniel Keyes -This is, hands down, one of my favorite books ever.  It's a poignant, deep, thrilling story of hope and redemption and love.  It makes you think.  It's an easy enough read, though, that I think anyone at least remotely interested in reading would enjoy.
And there we go.  🙂
Lovelove,