If you're a blogger, you likely know that Google Friend Connect is going away.  Or, well, it's not going away completely, but it won't be available to those of us who use anything other than Blogger.  Since I dislike blogger with a burning, fiery passion (maybe not such a hot hatred, really I just didn't use it because it wouldn't allow its software on self-hosted sites…and I do love my self hosted stuff) that doesn't work for me.
Also, the Google attitude ticked me off.  In this blog post, they say that they want us non-Blogger folk to, "create a Google+ page and place a Google+ badge" on our sites so that we can "bring [our] community of followers to Google+". See, it's right here:


Dude, Google, I am not your customer-user-whatever-collector!  Bleepity bleep BLEEP that makes me angry.
Anyway.
I use WordPress on a self hosted site.  And now, since I'm losing hundreds of followers who stalked/loved me through GFC, I have to figure out something else.  Thankfully, I stumbled upon a tweet the other day:


Look at THAT!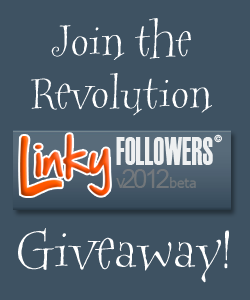 So, I clicked the link in the tweet and read the blog post by Paperback Dolls and then pattered over to Parajunkee's View like a good little link-follower.  After some more reading and poking around and pondering and link-clicking (I do love the clicking of the links…click click click!), I decided to become part of the Linky "Revolution".  There's even a cute image –>
Right, so. Because I'm feeling gifty, I'm going to do the thing where I have a giveaway and all that jazz.
The giveaway is for a $10 gift card or $10 worth of books from one of these:
Amazon.com
BarnesandNoble.com
BookDepository.com
Enter away! Once you've entered here, head over to Parajunkee's View to enter some other Linky Follower Giveaways.