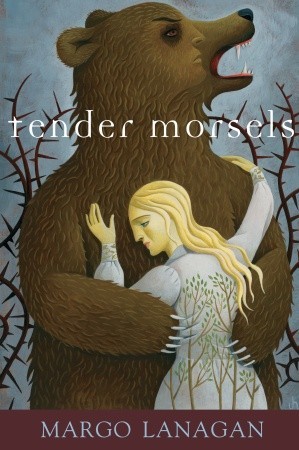 Title: Tender Morsels
Author: Margo Lanagan
Genre: Young Adult
Publisher: Knopf Books for Young Readers
Publication Date: October 14, 2008
Hardcover: 448 pages
Where'd I Get It: Library
Synopsis (From Goodreads): Tender Morsels is a dark and vivid story, set in two worlds and worrying at the border between them. Liga lives modestly in her own personal heaven, a world given to her in exchange for her earthly life. Her two daughters grow up in this soft place, protected from the violence that once harmed their mother. But the real world cannot be denied forever—magicked men and wild bears break down the borders of Liga's refuge. Now, having known Heaven, how will these three women survive in a world where beauty and brutality lie side by side?
My Thoughts: I am nearly always a fan of retellings of classic fairy tales. Nearly always. Honestly, I can't say whether I hated this novel or loved it.  It certainly is not a novel for just anyone, and I definitely don't think it's appropriate for the younger side of the Young Adult age range.  In fact, I'm pretty sure the themes in this book (incest (forced), more rape, hints of bestiality, forced abortions, suicide contemplation, sodomy (again…forced), gang rape…) make it way too intense for the younger set and is perhaps a touch too over the top for some adults.  That said…
Liga is a character you want to see persevere.  You want to see her thrive and live and just -be- with no further atrocities committed against her.  My heart really did ache for her.  That's really the only reason I kept reading – I did have to find out what happened to the poor girl.
I think that though Lanagan tended toward overly detailed and graphic scenes in some cases (namely the rape, forced abortions, other sexual encounters) and added in a ton of superfluous verbiage, the bones of the story were good.  There are some scenes in the book that are just a real delight to read so I am definitely glad I didn't give up after the first two chapters.  Some of the characters are incredibly well thought out (and some not) and I think the interplay between characters and personalities was well done.  The dialogue was a bit stilted and not entirely believable, but it wasn't completely horrible either.  All in all, I think a few more editing sessions would have ironed things out nicely.
Hopefully without giving away too much, I will say that I absolutely hated the ending of the book.  Really? After all that? Ugh. It was so incredibly unfulfilling.
As far as recommending this book to anyone – no, I absolutely would not.  I'm not the squeamish type when it comes to reading tough topics and I'm absolutely not one to say a book should just disappear from the shelves, but the world would not be worse for it if Tender Morsels simply ceased to exist.
Rating: 2 of 5