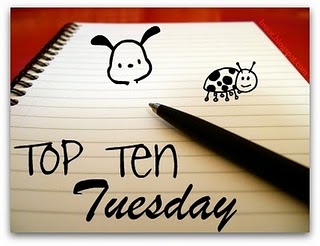 Top Ten Tuesday is a weekly meme created & hosted by The Broke and the Bookish. This week's topic is:
Top Ten…
Science Fiction & Fantasy Books 
Yay! (As always, these are in no particular order, because to order them would make my heart hurt.)
Ringworld by Larry Niven – Before my husband was my boyfriend, he wooed me with books.  This was one of the first he gave me…and then he sent me the next few in the series, and the prequel.
Lord of the Rings (series) by J.R.R. Tolkein – I've only read the first book, but I loved it. I know I'm going to be shunned for all of forever for this, but I've seen the movies for The Two Towers and The Return of the King, so I just haven't felt it necessary to read the books. I know, I know, I fail at life! Denounce me as a book blogger, for I have brought shame upon myself…  and now moving on!
His Dark Materials (series) by Philip Pullman – Mr. LitObsession wanted this, read it, then made me read it. I kind of love him for it.
Ender's Game by Orson Scott Card – Yet another book sent to me by Mr. LitObsession in an attempt to ensnare my heart by plying me with fantastic literature. Geez, he's good.
American Gods by Neil Gaiman – Ditto on this one with the gifting…  (Geez, Mr. LitObsession, stalker much?) 😉
Flowers for Algernon by Daniel Keyes – I read this as a young-thing and loved it.  I've read it more times than I can count since then – but I don't own a copy. What the heck is up with that?
Mrs. Frisby and the Rats of NIMH by Robert C O'Brien – I read this book on repeat when I was little. So fun!
The Last Vampire (series) by Christopher Pike – I have only mentioned this a half billion times all over the blog on so many different occasions that it's probably becoming annoying.  But really, I do love these books that much.
Ready Player One by Ernest Cline – I love this book on so many levels. It's fantastic. Bree at 1 Girl 2 Many Books made me read it. Then I made Mr. LitObsession read it. Then I made three more of my friends read it. It's just that fab. (Read it!)
The Knife of Never Letting Go by Patrick Ness – I really enjoyed this one just because it was fun and light but with enough bite to keep the flow going.
For the fun of it, here's Mr. LitObsession's Top Ten Fave Science Fiction & Fantasy novels (again, in no particular order):
Neverwhere by Neil Gaiman
The First Law (series) by Joe Abercrombie
The Hyperion Cantos (series) by Dan Simmons
Ringworld (series) by Larry Niven
Snow Crash by Neal Stephenson
Lord of Light by Roger Zelazny
The Dark Elf Trilogy (series)  by R.A. Salvatore
Dune by Frank Herbert
The Lord of the Rings (series) by J. R. R. Tolkein
His Dark Materials (series) by Phillip Pullman
Fun Fact:  Mr. LitObsession's list was actually 24 (yes…twenty-FOUR) books long at first.  I had to threaten him with cold dinners for a month if he didn't cut some.
I suppose I'd better go cook something now. Maybe.
Leave me a comment with a link to your Top Ten list…I'll pop by and have a look!  🙂
Lovelove,