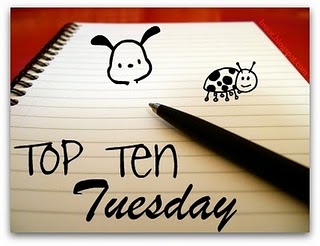 Top Ten Tuesday is a weekly meme created & hosted by The Broke and the Bookish. This week's topic is:
Top Ten Posts…
That Give the Best Picture of ME 
Hrm. This is a hard one. I've got a fairly bold personality and it seems to, at least most of the time, show in my posts.  But, well, let me see what I can pull up.
Any post about the Thirst series by Christopher Pike – Since this series is probably one of my favorite of all time (partially because of pure nostalgia but mostly because it's just awesomesauce vampire yumminess) and is one of the series of books that got me interested in Fantasy sorts of stories, I feel like my fangirl giggliness over this series is a fairly accurate picture of the Ree.
My review of The Selection by Kiera Cass – Because I am a blunt, honest person and sometimes my snark gets a little out of control. I'm also OCD and I tend to write things down as I'm reading if something annoys me enough. This review is a prime example of how nitpicky I can get.
The post about the super-pretty Penguin classics covers – I'm a tomboy, but I have some serious girlie girl moments. These incredibly gorgeous froo froo covers make me gleeful and happy.
This post about YA love triangles – Because, yeah.  Ugh.
Any Banned Books Week post – Mmhmm. I am passionate about this.
Where I announce the arrival of Baby Literary Obsession – Do I need to explain this one? 😉
My "Why I Don't Like Twilight" post of doom – This post used to get me a lot of hate mail. I haven't gotten any in a while, though…how odd!
This review of Speak – It's a powerful book. It touched me, and I say as much in my review.
This speaking up for Speak post – This kind of ties into my review of Speak, and the Banned Books Week posts.
For the life of me, I cannot find a #10.  Oops!
Leave me a comment with a link to your Top Ten list…I'll pop by and have a look!  🙂
Lovelove,