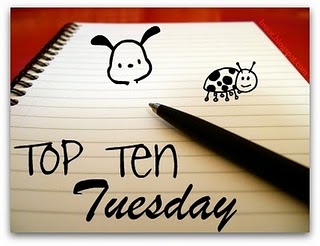 Top Ten Tuesday is a weekly meme created & hosted by The Broke and the Bookish. This week's topic is:
Top Ten Books…
On my Fall To Be Read List

Let's see…
Witch World by Christopher Pike – It's new and it's Christopher Pike. You all know I'm waiting on this one!
Days of Blood & Starlight by Laini Taylor – Yep, gotta have it.
The Twelve by Justin Cronin – Bree, I hate you for having already read this!  I mean, I still love you, but there's that seething violent jealously oozing from my pores… (Yeah, I want this.)
Hidden by Sophie Joran – Blah blah. Not in love with the series, but…hey. Gotta finish it.
Feedback by Robison Wells – Need to know what happens next!
Promised by Caragh O'Brien – Ditto – can't walk away til I know what happens.
Flock by Wendy Delsol – I didn't love the 1st book. I liked the 2nd book even less. But it's like a train wreck, you know, I just can't look away…
Reached by Ally Condie – Yet another third in a series that I just have to read because I can't NOT read the end of the series.
The Blinding Knife by Brent Weeks – This one I'm actually waiting on for my husband. It's preordered.
The Casual Vacancy by JK Rowling – Um, duh.
Leave me a comment with a link to your Top Ten list…I'll pop by and have a look!  🙂
Lovelove,