Whoooooa! Hey, lovelies! It's been ages, I know. Ages upon ages and days upon days, months upon months… years upon years. Goodness. Lots of things happened; I'll do a blog post to update, but for now, to get me started… I'm going to do one of the Memes that I looooved to do "back in the day". Woot! Look for a review, soon. Maybe tomorrow?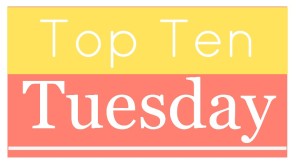 Today's topic is:
Top Ten Books on my 2014 Spring TBR list
Well, I've been out of the game for a while, and I haven't been reading a whole lot, so I have some oldies on here, and some new stuff, and just…well, here's my list.
Tandem by Anna Jarzab
The Whisperer by Donato Carrisi
Little Brother by Cory Doctorow
Watermelon b yMarian Keyes
The Ward by Jordana Frantel
Marooned in Realtime by Vernor Vince
The Here and Now by Ann Brashares
Catalyst by Laurie Halse Anderson
Finnikin of the Rock by Melina Marchetta
The Shade of the Moon by Susan Beth Pfeffer
Yep. I know, it's a weird assortment. There's SO many more on that list, too, but it's Top TEN Tuesday, not Top One Hundred Tuesday, so there we go.  Thanks for stopping by, guys, and I promise… reviews are BACK.
Lovelove,