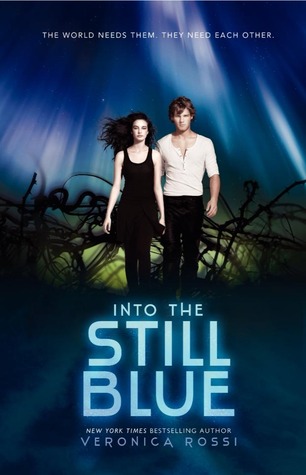 Title: Into the Still Blue
Author: Veronica Rossi
Genre: Young Adult Post Apocalyptic/Dystopian
Publisher: HarperCollins
Publication Date: January 28, 2014
Hardcover: 392 pages
Where'd I Get It: Purchased from Barnes & Noble
Synopsis (From Goodreads): The race to the Still Blue has reached a stalemate. Aria and Perry are determined to find this last safe haven from the Aether storms before Sable and Hess do—and they are just as determined to stay together.

Within the confines of a cave they're using as a makeshift refuge, they struggle to reconcile their people, Dwellers and Outsiders, who are united only in their hatred of their desperate situation. Meanwhile, time is running out to rescue Cinder, who was abducted by Hess and Sable for his unique abilities. Then Roar arrives in a grief-stricken fury, endangering all with his need for revenge.

Out of options, Perry and Aria assemble an unlikely team for an impossible rescue mission. Cinder isn't just the key to unlocking the Still Blue and their only hope for survival–he's also their friend. And in a dying world, the bonds between people are what matter most.

In this final book in her earth-shattering Under the Never Sky trilogy, Veronica Rossi raises the stakes to their absolute limit and brings her epic love story to an unforgettable close.
My Thoughts: You know… I didn't want to like this series. I really didn't. But… yeah, I did. Miss Protagonist went from flakey to only a tiny bit flaky and she proved she had the ability to stand on her own two feet. I love seeing character development over a series – one of my biggest pet peeves is watching characters remain flat and get stale throughout a trilogy; It makes for painful reading. Rossi managed to keep things fresh, though, and for that reason (and the plot's fabulous) you should just go buy the books. I do feel like some of the situations and outcomes were fairly predictable, but I think that's somewhat of a standard in YA books these days. At the same time, despite the slight predictability, the story wasn't boring and the author still managed to plop in a few surprises. I -may- actually read this series again, so I'm glad I purchased them instead of borrowing from the library. Give them a go!
Rating: 4 of 5
Series: Under the Never Sky, Book 3 | First: Under the Never Sky | Second: Through the Ever Night