Top Ten Tuesday is a weekly meme hosted by The Broke and the Bookish.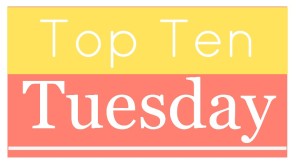 Today's topic is:
Top Ten… New Series I Want To Start
Oh man… I don't know! Let's start scrambling…
Outlander by Diana Gabaldon – I've just heard so many good things. It's a brick to start, though, so I'm intimidated. So intimidated.
The Raven Cycle by Maggie Stiefvater – I loved the Shiver series, so I'm intrigued.
The 5th Wave by Rick Yancey – I actually have the first two books of this series on my Nook, but I've not started it. What's wrong with me??
Not a Drop to Drink by Mindy McGinnis – I think I own this. Maybe? Hrm. Anyway, I want to read it.
Written in Red by Anne Bishop
A Thousand Pieces of You by Claudia Gray
Snow Like Ashes by Sara Raasch
I can't think of any others at the moment… I believe that's all the actual known (to me) series that I have on my list… maybe? Who knows!  Anywho, thanks for stopping by to take a peek.
Lovelove,