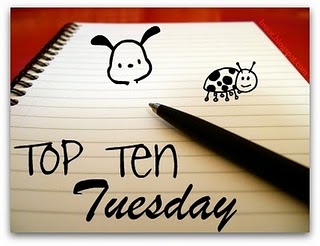 Top Ten Tuesday is a weekly meme created & hosted by The Broke and the Bookish. This week's topic is:
Top Ten Books I Feel As Though Everyone Has Read But Me
Hmm.  Let me think…
Fever by Lauren DeStefano – But only because I know some bloggers have the ARC and I don't and it makes me -cry- and sob in a horrible kind of way. *sad* *pout* *impatient*
Wuthering Heights by Emily Bronte – I know, I know. What the heck? I fail at life!
Anna and the French Kiss by Stephanie Perkins – The title and the cover combined have made me not even bother to find out what this book is about. I've heard people say they love it and I've heard people say they hate it. So…I'm not in a huge hurry to read it, but it does seem like everyone else has already.
The Mockingbirds by Daisy Whitney – Hmm
Divergent by Veronica Roth – I do want to read this, but not desperately. Perhaps I'll snag it from the library soon?
The Girl of Fire and Thorns by Rae Carson – Do want. This is me whining. Hear me whining?
Wolfsbane by Andrea Cremer – Yes, I know perfectly well I could just go buy it.  Or I could get it from the library. But even though I want to read it, for some reason I just haven't gotten it. Dunno what's up with that, but there you go.
Starcrossed by Josephine Angelini – I had the eGalley to this and let it expire. Then it was archived.  Argh! I suck, again.
I Am Number Four by Pittacus Lore – This one has been on my wish list for a while now, but it's another one that I just haven't picked up to read.  I'll get to it…eventually.
Wildefire by Karsten Knight – Couldn't even tell you what this one is about, because I haven't even looked it up. But…I've seen it all over the place and it really does seem like I'm one of the last to pick this one up. Perhaps I will, perhaps I won't. Who knows!
So…what books do YOU feel as though everyone has read but you? Let me know!